In honor of this most love-ly of holidays, I asked the rest of the staff to help me with a roundup of our favorite love stories in literature.
» Go add your favorites to our list here!
And whatever you're doing for Valentine's Day, take some advice from Powell's and Treat Your Shelf(1) to something nice.
Our Favorites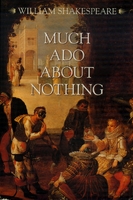 Benedick & Beatrice from Much Ado About Nothing
KJ says: It's the Ur-Romantic Comedy for a reason. Two grumps who detest the concept of Romance are manipulated into showing their feelings by their conspiring friends over a weekend wedding.
Bendrix & Sarah from The End of the Affair
Kate says: Is it in bad taste to pinpoint an affair as a prime example of love? Sorry not sorry.
Jamie & Claire from The Outlander Series
Abby says: It's the story of an English woman in the 1940s who travels through time to 1740s Scotland—the books are historical fiction mixed with time travel, and of course, a great love story.
Daphnis & Chloe, the eponymous duo from the novel by Longus
Tim says: Sweet and unexpected. If you haven't read an ancient novel, this is the one to start with.
Everyone from A Midsummer Night's Dream
Matt says: Well, they all end up together at one point or another, really.
Marco & Celia from The Night Circus
Loranne says: A bit of a fairy tale, but very much an affair of the mind between the two characters. The addition of magic (no joke) makes the settings spectacular, too.
Jim & Doyle from At Swim, Two Boys
KJ says: The story of a romance between two boys living in Ireland in 1916, against the background of increasing political strife and the Easter Rebellion. The book is written in a stream-of-consciouness style, and interweaves a beautiful romance with grand tragedy.
Elizabeth Bennet & Fitzwilliam Darcy from Pride and Prejudice
Abby says: You just can't make this kind of list and leave off Elizabeth Bennet and Mr Darcy.
Florentino & Fermina from Love in the Time of Cholera
Loranne says: This one is right up there with Elizabeth and Darcy for me. The story spans decades, and every time I read it, I feel like I've spent that much time with them. In a good way.
Eleanor & Park from Eleanor and Park
Kate says: Duh.
Florizel & Perdita from The Winter's Tale
Matt says: Such a funny and lovely exchange:
P: O, these I lack,
To make you garlands of, and my sweet friend,
To strew him o'er and o'er!
F: What, like a corpse?
P: No, like a bank for love to lie and play on;
Not like a corpse; or if, not to be buried,
But quick and in mine arms.
Polyphemus & Galatea from Metamorphoses
Tim says: Funny and poignant, and, since it's Ovid, cleverer than you think.
Gen & Irene from The Queen's Thief Series
KJ says: The romance in this series triumphs over a lot of politics and personal history which would have otherwise meant they shouldn't be together. Also, the two of them banter sarcastically for most of the series with moments of simple companionship amid the political chaos around them.
Cecilia & Robbie from Atonement
Abby says: Oh, I weep.
Venus & Adonis from all over the place (but especially this one)
Matt says: In its many variations, particularly Shakespeare's, and some lesser known Italian poets.
Laurie & Jo from Little Women
Kate says: THAT'S RIGHT. I SAID IT.
Honorable Mentions
Including, but not limited to, Holden Caulfield's infatuation with himself.
---
1. For the uninitiated: Treat Yo' Self from Parks & Recreation