We've done a lot of hinting about unveiling some big news at ALA Annual Conference in San Francisco this week, and now, we're giving you a sneak peek… at TinyCat.
What is TinyCat? TinyCat turns LibraryThing into a powerful, simple, online catalog for so-called "tiny libraries" (less than 20,000 titles).
These smallest libraries—churches, synagogues, small schools, community centers, academic departments, etc.—have been using LibraryThing to catalog their collections for almost a decade. That continues with TinyCat. TinyCat offers a new way to view the catalog that's cleaner and focused on helping patrons find and discover books in your library.(1)
TinyCat is:
Simple. TinyCat is simple and clean. Faceted searching adds power.
Mobile. TinyCat looks and works great on every device and platform.
Flexible. TinyCat supports all media types, not just the books that drive LibraryThing.
Professional. Import and export MARC records. Track patrons and show item status.
Secure. HTTPS always.
Enhanced. TinyCat includes the best, most useful enhancements LibraryThing can offer—more than almost any "big-library" catalog has.
Screenshots (click images for large size)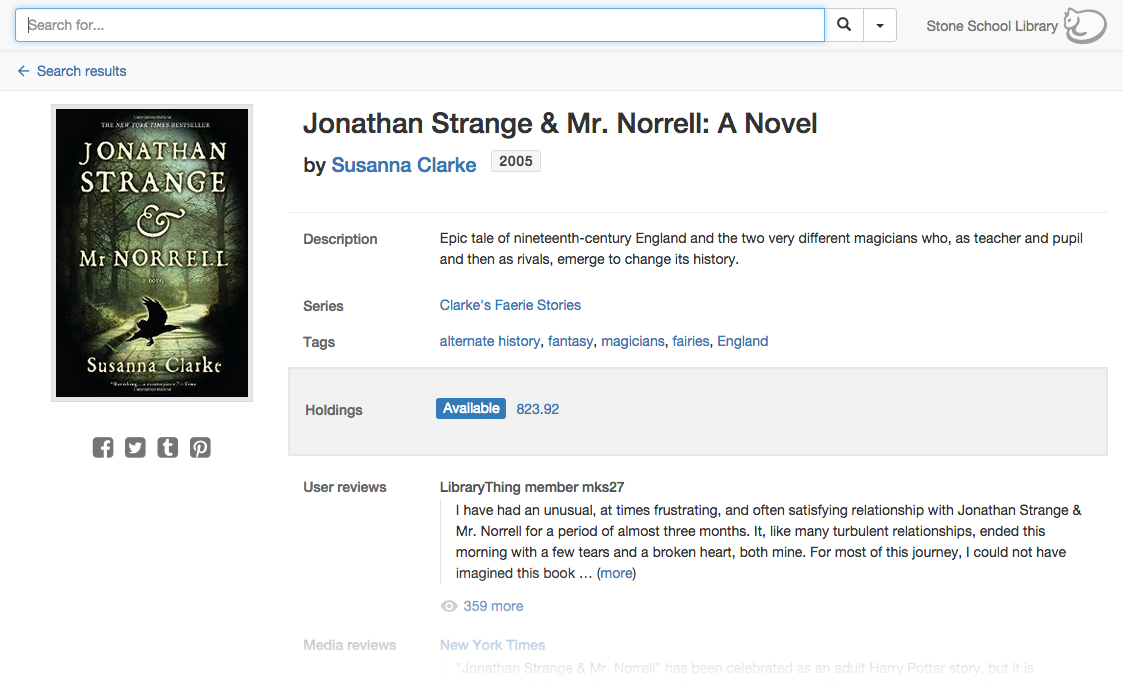 Method to our madness? It's no coincidence that we've been rolling out lots of new features lately, many of which have been necessary to make TinyCat possible (think Barcode Support, Circulation, Advanced Search and now New Feature: MARC Import). There's still more to come. We couldn't be more excited.
TinyCat is coming soon. (We were aiming for ALA, so it's very close.)
See us at ALA. Stop by booth 3634 at ALA Annual this weekend in San Francisco to talk to Tim and Abby and see TinyCat live. (We'll show it with your collection, if you have one.)
If you need a free pass to the exhibit hall, details are in this blog post.
Interested? If you're a librarian of a small library who might be interested in beta testing TinyCat, get in touch! Drop us an email at info@librarything.com.
---
1. In library terms, TinyCat is the OPAC ("Online Public Access Catalog"), and LibraryThing is the ILS ("Integrated Library System.")