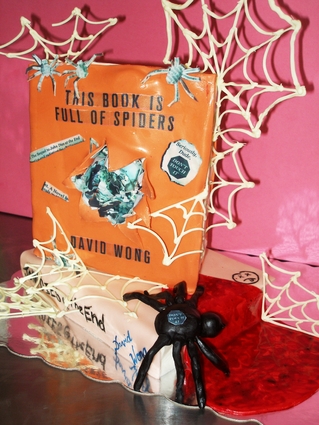 April has finally arrived, and with it, LibraryThing's THIRD annual Edible Books Contest! Members served up a tasty batch of literary delights last year, and we're expecting another strong showing in '14.
The Rules
1. Create an "edible book." We're defining this broadly, so entries can include dishes:
referencing a book's title or characters (puns are entirely welcome)
inspired by a book's plot
in the shape of an actual book (or eBook, or scroll, etc.)
takeoffs on the LibraryThing logo
2. Take photos of what you made. The photo on the right is the grand-prize winner from last year's contest, inspired by David Wong's books. You can see other submissions from last year in the EdibleBooks2013 gallery. If your creation is super realistic, take a photo cross section of your creation as you eat it!
3. Upload the photo to your LT member gallery. Sign in, then go here and click the "Add another picture" link to add the image.
4. When adding the image, be sure to tag it "EdibleBooks2014". This will add your image to the contest gallery, and counts as your entry. If your photo doesn't have that tag, we won't know that you've entered. You can see current entries here.
5. Tell us about your literary inspiration—and how you made it—in the "Title/description" box
DEADLINE: The contest will run for three weeks. Add your photos by 6pm Eastern on Tuesday, April 29th.
The Prizes
From all entries in the EdibleBooks2014 gallery, LibraryThing staff will choose the following winners:
Grand Prize (1)
$50 worth of books from Sherman's Bookstore*
An LT t-shirt (size/color of your choice)
An LT library stamp
A CueCat
An LT sticker
Three lifetime gift memberships
Great honor and prestige
Runners Up (2)
Your choice of one LT t-shirt, stamp, or CueCat
Two lifetime gift memberships
As always, we will pick a few Honorable Mentions from the batch of entries. The more entries we receive, the more Honorable Mentions we can make—and all of them will get lifetime gift memberships.
Have fun, and good luck!
Fine Print: You can enter as many times as you like, but you can only win one prize. Your dish must be made of edible ingredients (no hats, lost-wax sculptures, performance art), and by entering the contest you certify that it is your own creation. Entries submitted to previous LibraryThing Edible Books contests will not be considered. All decisions as to winners and book prize slections will be made by LibraryThing staff, and our decisions are final. LibraryThing staff and family can enter, but can only be honored as prize-less runners-up. Any images you load stay yours, or you can release them under a copyleft license, but we get a standard "non-exclusive, perpetual" right to use them.
Questions? Comments? Post them over on Talk.
---
*Surprise books will be chosen by LibraryThing staff from Portland, ME's newest indie bookstore, Sherman's! We'll make our selections based on the winner's library.