Among the many things LibraryThing is—book recommendations, social networking and so forth—LibraryThing started out and and is a kick-ass tool for organizing your books. But we're not resting on our laurels. There are things we can improve, and things we can add. This is one. Another one goes to the Beta group today.
This weekend I added a feature to see authors and series within the "Your library" tab, and as "first class things," like books and tags, not just a field within books.
Access to the Authors and Series view can be found to the right of the Tags view. Click the little divot to show other views. (Yes, others are planned.)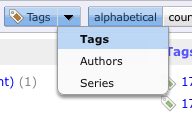 Switching to Authors or Series view changes the bar:
Below that, the page changes to a list authors or series, with links to see them in your catalog or go to their stand-alone author or series pages.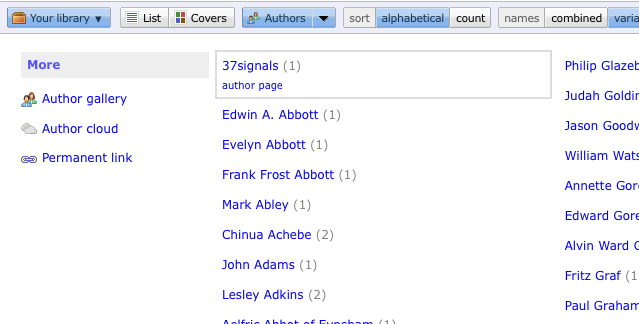 The feature was introduced incrementally. There's a Talk conversation that tracks that. Now that the feature is largely working and possibly complete, I've started another Talk conversation. Come let us me what you think.
Labels: authors, new feature, new features, series