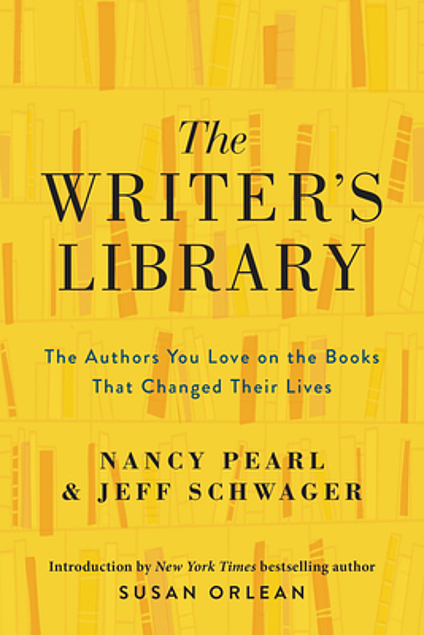 Tim interviewed Nancy Pearl and Jeff Schwager, authors of The Writer's Library: The Authors You Love on the Books That Changed Their Lives. Nancy Pearl is, of course, the Seattle librarian, author of numerous books, action-figure model, and regular contributor on NPR. Jeff Schwager is a writer, editor, producer, playwright—and book lover.
If there is a "LibraryThing book," The Writer's Library is it! LibraryThing members may or may not be interested in a given book, but we are always interested in books! The Writer's Library is, essentially, a whole book going deep on author's reading history, personal libraries and recommendations. I loved it. I hope you enjoy the interview!
TIM: What sorts of books did you read as children?

NANCY: I grew up in a home that we'd now call dysfunctional, but to me, back when I was a kid, it was just not an easy place to be, so I spent all my time at my local public library – the Parkman branch of the Detroit Public Library system. Miss Frances Whitehead was the children's librarian, my librarian, and she fed my insatiable need to escape through books. I read, when she met me at about age 8 or 9, only horse and dog books, but she soon expanded my reading into books like The Hobbit, Mary Poppins, The Wind in the Willows, all the Rosemary Sutcliff books, and all of the Newbery Award titles. Of course, I continued reading all the horse and dog books too. It was because Miss Whitehead saved me from total despair that I became a children's librarian, because, at age 10, I wanted to do for other kids exactly what she did for me: gave me the world of books.
JEFF: From an early age I remember loving mysteries. I read Two Minute Mysteries and Encyclopedia Brown, followed by all of the Sherlock Holmes stories and Agatha Christie's Hercule Poirot books.
TIM: Was there a book that made the turn for you into adult reading?
Nancy Pearl
NANCY: The first book I ever checked out from the adult section of the library was Gone with the Wind, and I loved it. Another adult novel I checked out early on was called The Headland, by Carol Ryrie Brink. I remember taking it from the bookshelf because I was familiar with the author, from having read Caddie Woodlawn and Family Grandstand, and all her other books.
JEFF: For me it was a paperback of short stories by F. Scott Fitzgerald called Babylon Revisited and Other Stories. I started on a rainy afternoon in high school with the story "Winter Dreams," which is a sort-of early version of The Great Gatsby about idealized and therefore doomed first love. What hit me, other than the heroine, who was a composite of every girl I lusted after in high school, and the hero, who was almost as pathetic as I was, was the beauty of the writing, the amazing musical flow of the sentences. That's still the thing I respond to most fervently in my reading. 
TIM: You're both fine writers in different genres. Do you have any advice for other writers?
NANCY: Whenever I'm asked this question, I'm reminded of what Ernest Gaines once said in a talk at the Seattle Public Library when he was asked the same question: "I have eight words of advice: read read read read write write write write." It's hard for me to imagine how someone can be a great—or even good—writer without being a reader. And I think that comes through in the interviews in The Writer's Library. I know when I wrote my first (and probably last) novel, George & Lizzie, I knew exactly what kind of novel it would be, because I was writing it for myself and I knew what kind of books I loved.
TIM: Can you tell me about your personal libraries? Are you collectors, hoarders, or something else?
NANCY: I am not a collector, but there are books that I keep just because I loved them at one time. I have many novels that I read as a young teen (mostly purchased at library book sales), which I will probably never re-read, but that I can't bear not to have in my personal library. My favorite writer from those years is Mary Stolz. She wrote books for both teens and younger children, but I only love the teen ones. I have re-read some of her teen novels and they actually hold up quite well. Of course they're long out of print, but if you can find In a Mirror or Second Nature, I'd highly recommend both of them. Other than those teen novels (other than Stolz I have books by Anne Emery, Rosamund du Jardin, and Lenora Mattingly Weber), I've kept a lot of my favorite novels and a few nonfiction titles.
JEFF: I am a collector and a hoarder–meaning I have some books I cherish and many, many more that I just can't bear to part with because I might, just maybe, want to look at them someday. As a collector, I focus on specific authors I love, including Chekhov, Philip Roth, Denis Johnson, Ross Macdonald, Raymond Carver, Richard Yates, and John O'Hara (all dead white men), as well as modern signed first editions (a more diverse lot, including my favorite living writer, Alice Munro, who is a master of compression and manages to get the depth of a novel into each of her short stories), pulp paperbacks, old Random House plays, slipcased editions… the list goes on and on, as does my library, which has taken over my fairly large house like a monster from a '50s sci-fi movie. 
TIM: I loved hearing authors talk about books as objects, such as Jonathan Lethem collecting books for their cover designers. Do you have books you treasure as objects per se?
NANCY: No, not really – for me it's always what the books say, what that means to me, rather than as a valuable object.
Jeff Schwager
JEFF: I love books with slipcases, like Folio Society and Limited Edition Club books, as well as clean old books, which have such a wonderful smell. I love beautiful dust jackets–the best ever is the one for the first edition of John O'Hara's Appointment in Samarra. I love deckle edged pages. I have some beautiful illustrated Limited Edition Club editions of Isaac Bashevis Singer books—The Magician of Lublin, Satan in Goray, and some short stories–that evoke the shtetls of my ancestors, that I love. Of modern books, I love the design of Dave Eggers' McSweeney's Books–check out Samuel Johnson is Indignant by Lydia Davis and Maps and Legends by Michael Chabon, to name two, which are such beautiful literary artifacts. 
TIM: How did you pick the authors you wanted to interview? Did you fight over who would get to do them?
NANCY: We started out by each making a list of the authors we wanted to interview and discovered, to our relief, that there was some overlap (T.C. Boyle, Charles Johnson, Michael Chabon, Louise Erdrich, Donna Tartt). Then we each had authors who we were passionate about but that the other person wasn't as enthusiastic about. I won't say it actually came to fisticuffs, but I believe that voices were raised in the ensuing discussions. And we ended with, I think, a wonderfully diverse collection of writers, so, as Ma says in Little House in the Big Woods, "all's well that ends well."
TIM: My favorite interview was with Laila Lalami, an author I have not read but will now. You probably can't say which was your favorite, but how about one you loved?
NANCY: For me, each interview is special in its own particularly lovely way. I think that's because we didn't have a list of questions that we asked each writer—we began each interview by me asking a general sort of question about reading as children, or growing up in a reading family, but after that, we let the interview basically go where the writer took it. I loved the interview with Michael Chabon and Ayelet Waldman because we talked so much about children's books. I loved the interview with Luis Urrea because of the way his childhood reading was determined by the circumstances of his parents' marriage. I loved the interview with Madeline Miller because she and I felt the same way about John Updike's The Witches of Eastwick. I loved the interview with Jenny Egan because of her story about reading Rebecca. I loved the interview with Amor Towles because he also read a series of mysteries in publication order. I loved the interview with Jane Hirschfield because I love poetry, which she talked about with such precision. I loved the interview with Laila Lalami because I learned so much about the experience of colonialism. I loved the interview with Russell Banks because of the story of his 4th grade teacher and Brazil. And so on.
JEFF: I loved them all of course, but one that stands out was T.C. Boyle, who lives in Montecito, down the street from Oprah Winfrey, in the first house Frank Lloyd Wright built in California. I was really eager to see his home, which was gorgeous, and to talk again to Tom (as he is casually known), whom I had first interviewed when I was a young journalistic pup thirty years ago. He is as funny as his funniest short stories, and also as thoughtful as his most serious novels, including my favorites, World's End and Drop City.
TIM: In her lovely foreword, Susan Orlean recounts how the dementia and death of her mother was, in a way, the death of a library. More literally, dismantling my parents' library, which encoded so much of their lives, was a second loss. What will happen to your library—however defined—when you die? 
NANCY: I hope my daughters will look inside all the books and find the ones that are autographed and keep or sell those (especially a book of poetry by Stephen Spender and a beat-up copy of Langston Hughes' Montage of a Dream Deferred both of which are signed to me personally). Other than that, I'm trying not to care too much about them.
JEFF: I'm leaving mine to Nancy—she walks 5-8 miles a day while I obsess over MSNBC 24/7, so I'm sure she will outlive me!
TIM: I could imagine a series of these books. Would you consider doing another? Anyone you wish you could interview?
NANCY: I'd love to do another collection, so we could talk to more poets, more writers at the beginning of their careers, more science fiction/fantasy writers, more nonfiction writers. But one of the things that makes The Writer's Library special, I think, is that we're with the authors in person, mostly in their homes. I don't want to do a series of Zoom interviews – I don't think it would be the same.
JEFF: There are so many writers I'd love to interview! If I could interview one living literary writer it would be Alice Munro, but we were told last time she was retired and not doing any more interviews. Otherwise, more poets definitely, and writers in genres we didn't get to this time, like mystery and sci-fi/fantasy writers and playwrights. Also, I love literate songwriters—especially Bruce Springsteen, whose autobiography was wonderful and who is so well read, and whose songs show the influence of his reading. Call us, Bruce! And the Obamas, whose memoirs are as thoughtful as they are. I can't wait for his new book. If you're reading this Barack and Michelle, let us know–we will go anywhere, anytime, anyplace to talk to you!
Labels: author interview, authors, interview