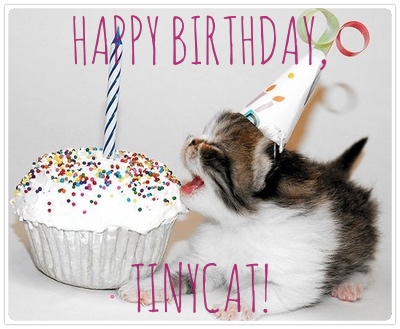 Happy 3rd Birthday to TinyCat! We're proud to now serve over 1,000 small libraries with an affordable, sophisticated online catalog, best known for its ease of use and "the best, friendliest" customer support (so we've been told).
We've enjoyed getting to know the amazing TinyCat community through our Library of the Month features (in our TinyCat Post), and we look forward to welcoming many more libraries this year.
To help celebrate our birthday, we've got a little something for everyone now through the end of May:
LibraryThing Store Sale. Now through the end of April, get all of our TinyCat merchandise on sale, including library supplies like our CueCat scanners and barcode labels, through the LibraryThing Store.
The deals: TinyCat shirts are marked down to $10, tote bags are $18, TinyCat/LibraryThing coasters sets are $2, CueCats are $5, and barcode labels are $5 for your 1st packet and $4 thereafter.
Extended free trials for all organizations. Throughout the months of April and May, anyone who signs up for a free trial to TinyCat will get not just 30 but 90 days to explore everything TinyCat has to offer. This will give you plenty of time to catalog your collections on LibraryThing and see how well TinyCat shows them off, all while tracking any circulation and patron data you need. Sign up now.
Win a free year of TinyCat. As a little icing on the cake, we're picking two TinyCat libraries from April and May to win a full year's subscription! (With a special nod to School Library Month in April, one of the libraries will be educational.) Winners will be selected and announced in June.
Come and join the celebration—share some birthday love with us on Talk (adorable cat photos encouraged), and help spread the news with other small libraries you love!
---
Left image: one of our stylish TinyCat v-necks, available in the LT Store. (LT Developer/shirt model Chris Holland not included—sorry guys.)