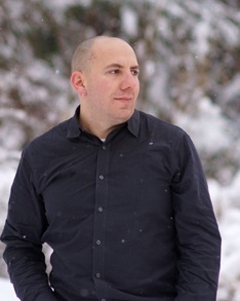 Some excerpts from our interview with author Alexi Zentner, which initially appeared in May's State of the Thing.
Alexi Zentner is an Assistant Professor at Binghamton University, and a faculty member in the Sierra Nevada College low residency MFA program. His first novel, Touch, published in 2011, was shortlisted for the Governor General's Literary Award, and The Center for Fiction's Flahery-Dunnan First Novel Prize, among other accolades.
Zentner is dual citizen of the United States and Canada, currently based in Ithaca, NY. Set on a small, fictional island off the coast of Maine, his second novel, The Lobster Kings, is a nod to Shakespeare's King Lear, and is out this month.
We've got 15 copies of The Lobster Kings available through Early Reviewers this month! Click here to request one!
LibraryThing staffer KJ Gormley caught up with Alexi earlier this month to discuss The Lobster Kings.
Although Shakespeare is definitely a cultural touchstone and enjoying a renewed popularity right now, can you familiarize us with the general theme and plot of King Lear, as you see it?
The brutally condensed version is that King Lear has decided to retire and to split his kingdom into thirds, because he has three daughters. He tells his daughters that flattery will get them the biggest slices of the kingdom. The eldest two daughters, Goneril and Regan, outdo themselves in professing how much they love the old man, but Cordelia, the youngest, refuses to play the game. She says she loves him exactly as much as a daughter is supposed to love her father. King Lear, who is not exactly at the height of his powers, is enraged, and gives her nothing. Because this is a tragedy, it's all downhill from there.
The rest of the play is Goneril and Regan, with the help of Edmund, who is a bastard both literally and figuratively, plotting against Lear, and then Lear going mad and wandering alone on the heath. It's more complicated than that, of course, and Cordelia, the true daughter, the daughter who tells the truth, tries to help her father, and, like pretty much everybody else in the play, is punished for it.
In Cordelia Kings you have created a strong yet entirely relatable protagonist. Why did you choose to tell the novel from her point of view?
One of the questions I'm getting often is, "Why did [you] chose to write such a strong female voice?" And the honest answer is, "Why not?" It never occurred to me not to. My default voice doesn't have to be male. Why can't my version of the great American novel, whatever the hell that is, feature a strong woman's voice? There is no female voice just like there is no male voice. There are just singular voices. I can't write women—nobody can—but I can write a singular woman. I can write the heck out of Cordelia. And that's the thing: the novel really is about Cordelia's voice.
It's a particularly appealing voice to me, because I'm trying to raise the kind of strong, capable girls that grow up to be women like Cordelia, women who can say, I don't care if this has always been a man's job, I can do it too. And honestly, I just love Cordelia. She's funny and smart and determined to show her father that she can live up to her family legacy, and she was a pleasure to spend an entire book with.
To what extent did you follow the plot of King Lear in writing The Lobster Kings, and to what extent did you go sail your own ship?
I love King Lear, and one of my strongest memories from university is studying the play. I was in London for the semester, and my professor was going blind. He'd committed to memorizing the complete works of Shakespeare because he couldn't stand the idea of not having Shakespeare available to him. And when we got to the end of the play, when Lear comes back on stage carrying his daughter's body in his arms, it was all my professor could do not to burst into tears. The play was so alive for him, and because of that, it became alive to me.
But I didn't want to retell Lear. I think any person who is at all familiar with King Lear will see the ways in which I departed from Shakespeare. I took the play as a place from which I could set sail. The Lobster Kings is a riff on Lear much more than just a reworking. The inspiration is clear—my narrator is named Cordelia, after all—but I wanted to create something new. I like to say that all literature is in conversation with all of the literature that came before, and Shakespeare was one of the first voices in the room. My goal wasn't to parrot back his words but to move the conversation forward.
Setting aside Shakespeare for a moment, this book is also drenched in sea mythology and fishing superstitions. How do you see these influencing the narrative?
I like to call what I'm doing mythical realism, as opposed to magical realism, which is so rooted in specific cultures, because I'm really trying to use our myths and our landscape. Of course, some of those myths have travelled from other countries The Lobster Kings leans on a number of Irish and Scottish myths, but they are seen through a North American lens.
For Cordelia, Loosewood Island is alive with the history of her family, and it's a history that has been profoundly influenced by myth and superstition. The first member of the Kings family, Brumfitt Kings, had his bride delivered to him as a gift from the sea. For her dowry, the Kings family was given the blessing of the bounty of the sea. But every blessing comes with a curse. Cordelia is alive to the understanding that there was a time when, if a map said, "there be dragons," the belief was that, well, there be dragons. Myths are just stories that have passed from families to entire cultures, and the myths and superstitions in The Lobster Kings are really the story of the Kings family.
What was your favorite scene to write?
I'm really proud of my first novel, Touch, and the people who loved it are almost evangelical about it, but it is definitely a quieter book. I say a literary novel is a novel where who the characters are matters as much as what happens to them, and in The Lobster Kings, the "what happens" matters a lot. There's guns and drugs and action, and there is a scene at the very end of the book where, well, let's just say that something happens. That was fun to write.
Labels: author interview