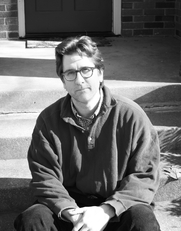 For the July State of the Thing newsletter, I interviewed Travis McDade about his second book, Thieves of Book Row, published in June by Oxford University Press. Travis is curator of rare books at the University of Illinois College of Law, where he teaches a class called "Rare Books, Crime & Punishment."
Set the scene for us, if you would, by providing a brief description of what Book Row was like during its heyday. Is there anyplace even comparable today?
Book Row was six blocks of Manhattan's Fourth Avenue packed with bookstores and personalities. Most of these shops were run by men who had learned the trade at the elbow of other booksellers, so there was a well-earned knowledge of the book business, of lower Manhattan and of other booksellers' aptitudes. These guys were well-read and hard-nosed. There is a tendency now to look back with the sort of nostalgic, moonlight-and-magnolia gloss we often do with the recent past—and some of that is deserved—but Book Row wasn't Disneyland. It was a labor of love for many of these guys, but it was definitely a labor. And life in Manhattan in the early 20th century was no picnic.
There are places now that have clusters of bookshops—Hay-on-Wye in the west of England springs to mind—but nothing like Book Row. What made it unique was a combination of these personalities, certain historical economic forces, and the nature of New York City at the time. It couldn't have existed anywhere else, and it can't exist now.
The theft ring you write about in Thieves of Book Row was no fly-by-night operation: these guys were organized! Give us a sense of how the operation worked, who was involved, and the impact these thefts had on the book and library world of the time.
Like most cottage industries, it developed organically. It started out as just some guys stealing books and selling them to shops—the classic American story!—and it grew from there. A confluence of events made this theft ring, like Book Row itself, possible. By the second half of the 1920s, there was reliable transportation, a decent economy and a rise in the value of a certain type of books. These books, as it happened, were sitting on the open stacks of libraries all over the American northeast, most librarians not even imagining they were worth the effort to steal. Once, at least, they had been right about that. But by the 1920s, it made good business sense to send men from Manhattan to Worcester, Massachusetts, to steal half a dozen books, if the men could then easily move on and hit Lancaster, Leominster, Gardner, etc. The thieves would get paid a standard rate of $2 per book and the bookstores would sell them for anything from $25 to $1,000.
Just to give an indication of how large the theft ring was, by the time it came to an end, the major problem was not getting the books out of libraries but finding places to store the surplus.
One of the key thefts you focus on in the book is the snatching of a copy of Poe's Al Araaf from the New York Public Library. What made this particular book such a desirable commodity at the time? And how did that theft turn out for the thieves in the end?
Al Aaraaf, Tamerlane and Minor Poems was Poe's second publication, but the first to use his name. Like much of his early work, because it had not been popular, few copies were saved. This, coupled with the fact that the value of Poe works had been party to an inexorable upward climb for three decades, made it a hot commodity.
I've tried to get my head around the "why" of the theft. The question "what were they thinking" is often hard to understand in retrospect, and I confess I can't be sure what the answer is. The theft from the New York Public Library seems to me a great deal like awaking a slumbering giant. The NYPL employed a man whose sole job was to keep its books safe—a unique position at the time—and had powerful allies in the city. When there were so many other compliant victims out there, why would anyone want to give the NYPL a reason to get involved? Recklessness? Spite? Because it was there? I don't know, but it spelled doom for the theft ring.
Tell us about the research for this book. What sorts of sources did you find that allowed you to reconstruct this theft ring and its deeds so thoroughly?
This book started out as a small part of a chapter in a larger book, when my only sources were a few newspaper articles and a New York appellate court case. Then I stumbled across a memoir that had a few pages on the theft and, very quickly after that, an article in a book collecting magazine from 1933. Each of these offered their own bits of information, each was written in an entirely different voice and each at different removes from the scene of the crime. Most of my previous research was based on court and law enforcement records—dry, fact-based, close-in-time material. The writing of this book, typified by those first sources, required me to draw on a range of much different sources to create a narrative.
Booksellers' memoirs—even if they did not mention this crime, or Book Row—were great, adding a certain life to the book. But there were also other types of first-person reporting that was extremely helpful: correspondence, court testimony, depositions, etc. These are more raw than memoir, because they aren't meant for public consumption, and so offer up little facts that a person would not ordinarily think to include in a more formal record.
I also read a lot of fiction from the time. Most of this was not helpful, except for providing context, but some bits and pieces made it into the story. There is even a little humor in the book, if you look hard enough. For example, I rely on a 1920s article from The New Yorker, at one point, to add levity to a passage; so you can probably guess that what humor exists is bone dry.
For more on Thieves of Book Row, what Travis is reading now, and a bit about what he's working on next, read the rest of our interview.
---
If you'd like to receive our State of the Thing newsletter, you can add it in your email preferences. You'll need to have an email address listed.
Labels: author interview, state of the thing