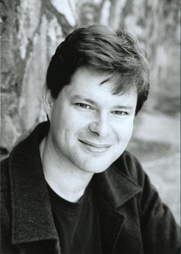 Some excerpts from my interview with Paul Collins, which appeared in the July State of the Thing newsletter. Paul teaches in the MFA program at Portland State University, and is the author of many books, including Sixpence House: Lost in a Town of Books, The Book of William, and more. He's also NPR's "literary detective," and writes for a wide variety of publications. His new book, Duel with the Devil was published in June by Crown.
In Duel with the Devil you tell the story of a gruesome 1799 New York City murder case in which a young woman's suitor is accused of causing her death. The young man puts together something of a "dream team" of defense lawyers: who were his attorneys, and how did he manage to obtain such impressive counsel?
The defendant, Levi Weeks, managed to get the three best lawyers in NYC: Alexander Hamilton, Aaron Burr, and Brockholst Livingston. Weeks was a construction foreman, but his brother Ezra Weeks happened to be the most successful developers in the city—and Hamilton and Burr were both clients of his! Hamilton in particular was running up an impressive tab (which he couldn't pay) having Weeks build him a mansion, so he certainly owed a favor.
I might add that while Livingston's the least known of the trio, he was no slacker himself: the guy was later appointed to the Supreme Court.
This wasn't the only time Hamilton and Burr found themselves on the same side of a courtroom, right? What others sorts of cases did they cooperate on?
They usually worked on commercial cases—property disputes, insurance cases over lost ships, that sort of thing. They were often on opposite sides, but not always—in fact, right before this case, they'd wrapped up a monster settlement for a client named Louis Le Guen. Since Aaron Burr was even worse with money than Hamilton, he promptly asked Le Guen for a loan!
You've got one of the best titles out there, as NPR's "literary detective." I'd love to hear a bit about how you seek out the sorts of fascinating historical stories you like to tell: do you go in search of them, or do they tend to be just things you've stumbled across in the course of other research and then decide to follow up on?
Often I'll just grab random old newspapers and magazines (in libraries or online) and start snooping, but a surprising amount of the time it's weird, random stuff I find while looking up something else. Chance favors the prepared mind and all that.
On this book in particular, though, a lot of the small and odd details came pretty systematically—namely, I read through nearly every available Manhattan newspaper from 1799 and 1800. That's not quite as insane as it sounds, because newspapers back then were 4 pages long! Still, it was thousands of pages, but that's always my favorite part of writing—wandering through those lost-dog notices and molasses shipments and yellow fever quack cures. Probably a whole bunch of other stories will now spin off from that experience.
What books have you read and enjoyed recently?
The British Library recently reissued Andrew Forrester's Victorian pulper The Female Detective (1864), which I'd never read before and was fascinated by. As a writer, I really love the premise of Alexandra Horowitz's new book On Looking—basically, walking around the same NYC neighborhood eleven times with different kinds of experts observing it each time. And as someone fascinated by disastrously bad movies, I'm excited to see Tom Bissell's upcoming The Disaster Artist, about the making of "The Room." I was actually with Tom the first time either of us saw it, and…wow. Just…wow.
Also, I've just come off a Wodehouse reading jag. After eight or nine of his books in row I felt like I'd consumed an entire sheet cake, but it's a testament to him that, well, I'm seriously thinking of reading a tenth.
But wait, there's more! Find out what Paul's working on now, and about some surprising tidbits he's found during his researches. Read the rest of our interview.
---
If you'd like to receive our State of the Thing newsletter, you can add it in your email preferences. You also have to have an email address listed.
Labels: author interview, state of the thing