UPDATE: See below for some new privacy controls we've added.
LibraryThing has long had a way to mark your favorite bookstores and libraries from LibraryThing Local, LibraryThing's database of more than 80,000 bookish venues and 60,000 upcoming events.
Today we've added a way to mark places you've visited—in general or, by a simple "check in" button, the day you visit somewhere. You also get new lists of where you've been, and maps.
Here's what the new visited options look like on a venue page.
By default everything you mark as favorite is also marked "visited." But you can un-click "visited," if a place is a favorite but you haven't visited it.
Update: I've changed it so that the default is that favorites do NOT show up "venues visited." To make them show up there, either mark them as visited or edit your local settings. By popular request on Talk, I've also added new settings to allow members to make both venue favorites and venue visited private—visible to themselves only. Here's what the options look like, with the default state. Understand, venue favorites have ALWAYS been public. So this is an increase in user privacy. (Note that author favorites are still public. We will work to make them optionally private.)
Here's the "Your visited" page, listing all the venues you've visited and the ones you've checked into. At present, all check-ins are public. (There will be preference options soon.)
Here's what the large map of venues you've visited looks like:

You can see my list of visited venues and my large map. They're a work in progress, but it's liberating to be able to record all venues, not just those I want to mark out as special favorites.
Whether on a venue page, your visited page or in your News Feed page, you can share your status on Facebook and Twitter. When you click "share" it looks like it usually does: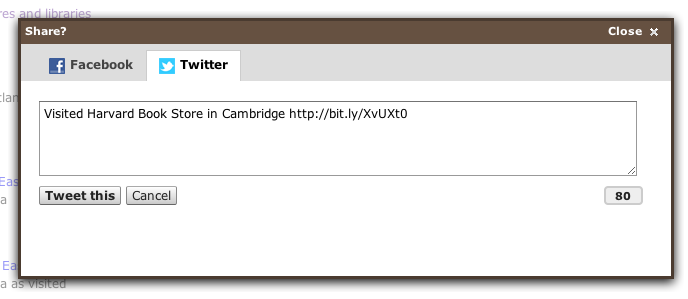 Let us know what you think, report bugs or suggest improvements on Talk at New Features: Mark the bookstores and libraries you've visited.
Labels: bookstores, librarything local, new feature, new features